Finance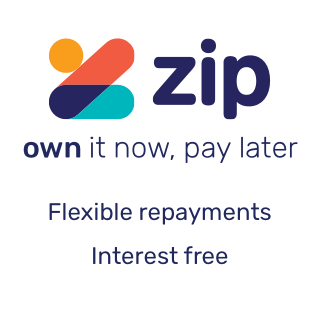 Shop Online or In Store with up to 24 Months Interest Free
---
Purchases up to $1000 - 6 Months Interest Free
$1001 - $2000 - 12 Months Interest Free
$2001 - $8000 = 24 Months Interest Free


Interest Free Direct Debit Payment Plan
---
Humm, Australia's favourite retail payment plan is a "revolving credit account" that allows you to purchase goods or services today, by paying an initial deposit, with the remaining balance conveniently direct debited fortnightly.




For orders between $50 and $1000. Pay over 8 weeks!
---
Using Afterpay you can pay for your order over 8 weeks. There's no interest or added fees and nothing to pay today. Payment will be automatically taken from your debit or credit card in four equal payments each fortnight over 8 weeks.




Up to 36 Months Interest Free*
---
Buy Now Interest Free for Up to 36 Months with Skye Mastercard. Available for amounts up to $20,000 with a fast and easy approval process. Breathe Easy with Skye.


Need Commercial Finance?
Contact our in-house Commercial and Corporate Finance Specialist.
Easy Application, Approvals within 24 Hours.