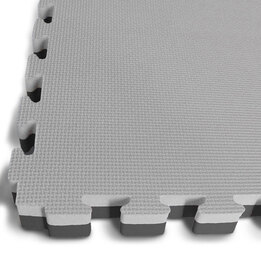 EVA Gym Flooring
Welcome to our comprehensive collection of Eva Foam Jigsaw Tiles, the perfect solution for comfortable, durable, and customizable flooring. Our Eva foam tiles are designed to provide unmatched versatility, safety, and aesthetic appeal to any space.
Our Eva foam jigsaw tiles offer a seamless interlocking system, making installation a breeze. Crafted from high-quality, non-toxic materials, these tiles are ideal for a variety of settings, including playrooms, gyms, classrooms, and more.
Key Features:
Interlocking Design: Effortless installation and removal without the need for adhesives.
Durable & Safe: Thick and resilient, these tiles offer excellent shock absorption, protecting floors and individuals during activities.
Customizable: Mix and match colors and patterns for a personalized flooring solution.
Easy Maintenance: Waterproof and easy to clean, ensuring long-lasting quality.
---