Exercise Bike Buying Guide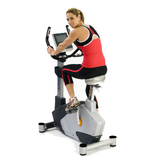 Exercise Bike Buying Guide
Exercise bikes are a great way to improve your Fitness and increase your lower body fitness. If you are new to fitness, a bike is a perfect place to start.

What Type of Bike Should I Buy?

There are four basic types of exercise bikes: upright bikes, recumbent bikes, dual-action bikes and spin bikes.

The upright exercise bike is the most traditional style of bike. They stand up like regular bikes and have similar pedals and usually a larger padded seat for comfort. Upright bikes are perfect for improving your cardiovascular system and strengthening the lower body. Most upright bikes will come with your basic information like distance, time and speed. More advanced models sometimes come with the option of programs. They are ideal for people with hip, knee or ankle injuries as they are no impact.

Recumbent bikes are perfect for those in need of additional back support while exercising. Recumbent bikes have a larger seat with a backrest, similar to a chair which gives you the option to recline back. The pedals are in front of the seat instead of below the seat. This generally provides additional comfort, better back support, which again provides more comfort for those with back inquiries. Riding a recumbent bike targets slightly different muscles to an upright bike but still provides both a cardiovascular and lower body workout. Some of the features on a recumbent bikes can include LCD units that display time, heart rate, calories burned, speed, and distance readouts.

Dual Action Exercise Bikes incorporate the upper and lower body so are a great choice for those wanting a full body workout with no impact on their joints. They are very similar to a cross trainer but allow you to be seated. Dual action bikes are upright and generally have different resistance levels so you can increase or decrease the level to determine how hard you want to work out.

Spin bikes are similar to a road bike. They have a fixed wheel pedalling system and the resistance can be adjusted. A spin bike is alot tougher than other stationary bike so expect a good overall workout. They are generally more basic and don't usually have a console displaying time, distance seed ect. The seat is normally simular to a road bike so not as comfortable but despite this they are still very popular for those riders wanting a tougher workout.

One of the big attractions for bikes is that they take up much less space than a treadmill or elliptical. This makes them ideal for homes where space is limited.

Overall, exercise bikes for home use are a great way to keep fit and there are plenty of options to suit everyone needs. They provide a great workout to suit all levels of fitness without placing stress on the body.