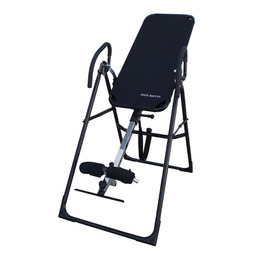 Back Care Equipments For Purchase
You are most likely interested in inversion products to help you relieve back pain, decompress your spine, stretch your back and muscles, relieve stress, and help you maintain general wellness. You will probably experience all of these benefits utilising inversion and much more.
What is an inversion table? This free standing back swing table smoothly swivels through a wide variety of angles with your body fully supported.
Who should use an inversion table? This is the best option for users looking for comfort and affordability.
How does an inversion table operate? The balance is so precise, simple arm movements control the rotation. A tether strap allows you stop the rotation at any angle. Additionally, the adjustable roller hinges allow you to select the aggressiveness of rotation. The table can lock at 90¼ for full inversion. While in this position, you can do inverted sit-ups and squats.
---